Business Card Design & Printing
There is little more basic in building your brand than having a professional business card that is customized to you.  Wright Web Works is prepared to help you with your overall brand image.  We can design your business card, print it, then ship it right to your door!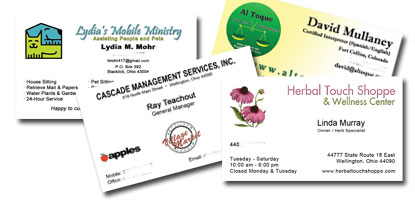 The table below shows our updated, simplified pricing for business card printing services.
With Hosting Account
Without Hosting Account
Business Card Design Prices
Single Sided
FREE
$15.00
Double Sided
$10.00
$25.00
Business Card Printing Prices
250

$19.00

$14.25

$21.00

$15.75
500

$24.00

$18.00

$27.00

$20.25
1000

$34.00

$25.50

$38.00

$28.50
1500

$44.00

$33.00

$49.00

$36.75
2000

$50.00

$37.50

$55.00

$41.25
Paper Options
110lb Matte Finish
Free
Free
90lb Glossy Finish
$9.00
$11.00
Premium 130lb Matte Paper
$9.00
$11.00
Premium 130lb Glossy Paper
$11.00
$13.00
Blank Back Side
Free
Free
Color Printing on Back
$9.00
$11.00